A dental implant replaces a missing tooth, it is an artificial root made from titanium and over time integrates with jawbone. An implant can hold a single replacement dental crown, a bridge or a denture depending on how many teeth are missing.
Dental implants offer a fixed, long term solution to replacing a single missing tooth or all of your teeth. They are strong, comfortable and very natural looking and are the best replacement to your own teeth. They are fantastic because they do not weaken or compromise adjacent teeth.
Dental implants are virtually indistinguishable from your own teeth which means you can enjoy an attractive and natural looking smile. Furthermore, when teeth are lost the surrounding bone tends to shrink which can result in the ageing 'caved in' look. Placement of dental implants can preserve this and will maintain the shape and structure of the lips and cheeks.
Our team of experts focus on creating natural looking dental implants that match the look and feel of your natural teeth.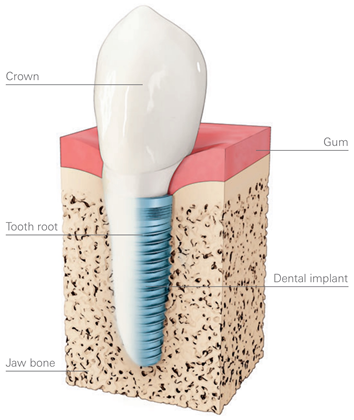 Learn More About Dental Implants
Contact Our Treatment Coodinator
We offer a range of treatments, which can all be discussed with our Treatment Coordinator. Just give us a call on 01206 271 192 or fill out the contact form to arrange a consultation:
Our Treatment Coordinator's role is to use training and in-depth knowledge to inform and educate you, ensuring you can make informed decisions that are right for you. This means that all our patients have someone to talk to, throughout their journey with us.
Give us a call on 01206 271 192 or fill out the contact form and we'll be in touch.